Clayton Merle Rollins Jr
was also known as "Miguel Martinez" or "Mike" as his alias
We finally fulfilled "Mike" Rollins' last wishes
The Monument of the Cross in Bataan
This commemorates those who sufferedin the "Death March"
The PROBE TEAM , a respected TV show helped us fulfill Mike's last wishes ....but the problem was we couldn't decide where tin Bataan should the ashes be scattered....
First, the urn containing his ashes, which was sent to me in 1981,had to be opened at the Loyola Crematorium
The metal urn was airtight
Until a cross fell from the ashes when the old urn was opened, and it landed on my toe.
This is the small cross that fell from the ashes
Probably telling us where to scatter the ashes
WITH CHARITY FOR ALL; WITH FIRMNESS IN THE RIGHT,

AS GOD GIVES US TO SEE THE RIGHT,

LET US STRIVE ON TO FINISH THE WORK WE ARE IN;

TO BIND UP THE NATION'S WOUNDS;

TO CARE FOR HIM WHO SHALL HAVE BORNE THE BATTLE,

AND FOR HIS WIDOW AND HIS ORPHAN--

TO DO ALL WHICH MAY ACHIEVE

AND CHERISH A JUST AND LASTING PEACE AMONG OURSELVES,

AND WITH ALL NATIONS.

Abraham Lincoln, March 4, 1865

the helicopter flew over Bataan,there was Mt.Samat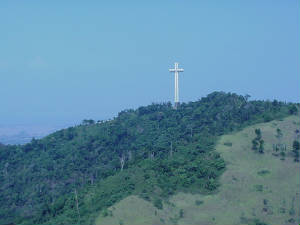 I never knew a giant cross was built there to commemorate the "DEATH MARCH"
Mike's final resting place